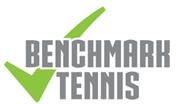 Every month, SJSRC and nearby clubs and facilities offer red-ball, orange-ball, and green-ball "match play" events for our junior tennis players! SJSRC has joined forces with other clubs in the area to provide opportunities for play each month. All participating pros are preparing the kids for match play, and have agreed to advance kids to the next level, according to a written set of standards, or benchmarks. We are calling the group of participating facilities and pros "Benchmark Tennis." The Web site is www.benchmarktennis.org.
Please review www.benchmarktennis.org for details on the minimum skills required to be able to participate in these events. See the Match Play Criteria under the "Programs" link. See "Calendar" for a list of upcoming events.
Cost is $30 per event. For questions or to register for events, email Leslie Johnson, leslie@sjsrc.com.
Please provide an email with the following:  Player Name, Age, Coach, Parent name, and Cell #.