San Jose Swim & Racquet club members enjoy playing in a variety of USTA Northern California programs, including Adult Leagues, Flex Leagues, and Junior Team Tennis.
We are proud to support our members' active participation in USTA Adult leagues and Junior Team Tennis. In 2012, San Jose fielded 20 different teams throughout the year. In 2011, our Adult Women's 3.0 team made it all the way to Nationals!
Adult Tennis Leagues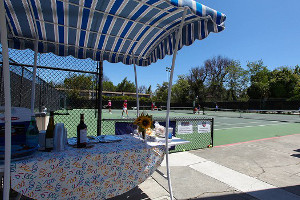 USTA Leagues, the country's largest recreational tennis league, has more than 330,000 players nationwide competing in match play, meeting new people and enjoying the camaraderie of teammates. In Norcal we have over 30,000 players in one of the ten different leagues that USTA Norcal offers: Flex League; Adult 18+, 40+, 55+, 65+, and 70+; Mixed 18+, 40+, and 55+; and Norcal Combo League. There is something for every age group. Play is based on the NTRP rating system so you will play with and against players of similar ability. If you are new to the game or a former player, there's a spot for you. USTA Leagues also offer you and your teammates a chance to advance from local play to USTA League National Championship events.
To play on one of our club teams, you must be a member of SJSRC, a member of the USTA, and then discuss joining the team with the captain. There is a fee that you pay to the USTA when you join a team. If you have never played in USTA Leagues, or haven't played for a long time, you will need to "self-rate" when you join a team. Check with one of our tennis professionals to see what your target rating should be before you start.
If you have questions about USTA programs at the club, contact Tennis Director Reno Davenport, reno@sjsrc.com.
Helpful Tennis Links:
USTA Norcal League Rules are based on four sources:
You only need to read through the LLAR and The Code to get a good overview of playing in league tennis.
To see everything else you may want to know about USTA League Tennis, go to the Norcal Adult League Directory.

Every month, SJSRC and nearby clubs and facilities offer red-ball, orange-ball, and green-ball "match play" events for our junior tennis players! SJSRC has joined forces with other clubs in the area to provide opportunities for play each month. All participating pros are preparing the kids for match play, and have agreed to advance kids to […]
Below is the schedule for 2018 Winter-Spring, effective till June 2018. All classes except for High Performance are drop-in. When you come for the first time, simply stop in at the front desk to register and pay for the clinic you want. You can purchase one at a time or an 8-pack of lessons. You […]
SJSRC offers a variety of tennis clinics for adults designed to help you improve your game. All clinics are drop-in. Private, semi-private, and specialized small-group lessons are also available. Check with Reno or Phil at reno@sjsrc.com or phil@sjsrc.com. Download and Print the Adult Tennis Clinic Schedule.
Tip #5 How to find the proper grip size: Manufactured tennis racquet grip sizes range from less than 4″ for juniors to 4 7/8″ for the largest adult hands. This might not seem like much of a range, but the difference even 1/8″ makes is surprising. Prolonged use of too large or especially too small […]
View All Posts