Enjoy the following tennis tips.
Tip #6
There's been a lot of talk the past few years about how grip sizes have shrunk on tour. Reportedly, Roger Federer uses a 4 3/8 size grip, while Rafael Nadal uses a 4 1/4. Of course, both play with overwraps, which builds the grip up to a degree. Still, for players of their skill, size, and strength, such grip sizes would have been considered absurdly small 15 or 20 years ago.
So what does a smaller grip afford top players? According to Joe Heydt, who strings pros' racquets as part of the Luxilon Team, "The benefits that Rafa and Federer are feeling [with smaller grips] come from the increased wrist snap they are gaining on the serve. It is not imagined. The increased head speed leads to devastating movement and kick on their serves. At a world class level, there are not any drawbacks to speak of, but for mortal players, a smaller grip can lead to a problem in technique with forehands and backhands being too wristy. It's also much more difficult to keep the grip from turning in your hand on off-center hits when the size is very small."
Smaller grips may also make it harder to volley or hit groundstrokes with traditional (i.e., continental or eastern) strokes, due to reduced stability. What's more, smaller grips may stress players' wrists and hands, because of the extra wrist flexion such grips allow, and because they force some players (with bigger hands) to squeeze harder to keep the grip from slipping.
When trying to decide whether to downsize below the recommended size for your hand, always remember the obvious: Hands come in many different sizes. If you try out a smaller grip and it doesn't feel comfortable, you should think twice about switching. Just because it works for Roger or Rafa doesn't mean it'll work for you.
Tip #5
How to find the proper grip size: Manufactured tennis racquet grip sizes range from less than 4″ for juniors to 4 7/8″ for the largest adult hands. This might not seem like much of a range, but the difference even 1/8″ makes is surprising. Prolonged use of too large or especially too small a grip can injure your hand, wrist, and elbow.
The most commonly used method for finding your exact grip size is as follows:
On your dominant hand, note that your palm has three main creases.
Hold your hand flat, with the fingers alongside one another.
Measure from the middle crease of your palm, up the line between your middle and ring fingers, to a point equal to the height of the tip of your ring finger. For most women, this measurement will fall between 4 1/8″ and 4 3/8″, for most men between 4 3/8″ and 4 5/8″. Juniors will usually measure less than 4″.
Generally, if you're between eighths when you measure and you're not growing, you'll be better off going with the smaller grip, as a slightly small grip can be fattened up by 1/16″ easily with an overwrap, whereas a too-large grip would have to be shaved down at a pro shop, and some racquets can't be shaved down. Overwraps can't fatten a grip effectively more than 1/8″ though, because each layer of overwrap adds to the rounding off of the bevel edges on your handle.
Grip sizes between 4 1/8″ and 4 5/8″ are easy to find in adult racquets. Larger and smaller grips are made for some racquets, but not all. Players with unusually small or large hands often have their racquet handles custom-sized at a pro shop, which should cost between $5 and $15. You can also get a do-it-yourself grip enlargement kit.
For junior racquets, exact size matching can be difficult. Most junior racquets are quite inexpensive, and the manufacturers don't find it economical to produce a wide range of grip sizes. Often, the best you can do is to get a racquet that's fairly close. For juniors, grips slightly large are preferable to slightly small, because they will grow into them.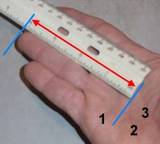 Tip #4
What are String Vibration Dampeners? First, a vibration dampener helps absorb high frequency string vibrations. Second, vibration dampeners affect the sound and the feel of hitting a tennis ball. But, racquet head vibration is a low frequency sound vibration and is not affected at all by string dampeners. Therefore, vibration dampeners have nothing to do with solving tennis elbow problems. They merely affect the impression that players get from the high frequency vibrations of the ball contacting the string.
Tip #3
Repetition is very important when adding a new shot to your game or when you're trying to change a shot. It takes about 10,000 hits to improve or change a stroke. Take a clinic or schedule some practice hitting with a friend or use one of the club's ball machines to start those reps!
Tip #2
How often should I re-string my racquet? Depending on your level of play, manufacturers say restring as many times a year as you play a week, but at least every six months.
Why re-string? With time and use, string not only loses tension, it loses elasticity. What does that mean? Losing elasticity can be likened to a rubber band stretched in the sun for a long time – the string loses its ability to r…ecover. The string becomes like an old tennis ball with no bounce or grip.
Further, polyester strings lose both tension AND elasticity their entire time in a racquet while most other synthetics and natural gut hit a point where they stabilize – polys are usually shot in a month.
How tight? Racquets are marked with the recommended range, and we usually recommend 2 pounds above the mid-point of the range as the tension drops on most strings by 15-20% in the first 24 hours. However, people coming off a long layoff should consider restringing at 10-20% lower tension and then going tighter as their game picks up. Lower tension gives more power with less work and will help cushion your arm a bit when first coming back out to help prevent injury.
Tip #1
Heat or Ice? Use an ice pack for acute injuries, to minimize blood flow and reduce swelling and pain. Use heat to loosen muscles and stiff joints and help you feel more mobile. Twist an ankle, ice immediately then RICE (Rest, Ice, Compress, Elevate). Stiff and sore the next day, heat.